Security By Design, Inc. is an independent security consulting located in Pacheco, California. The firm has been in business since 1974 and was originally known as the Easter Company. It was incorporated in 1982 as Asset Protection Consultants, Inc. and filed a name change to Security By Design, Inc. (SBD) in 1997.

SBD provides professional security management consultation and physical security design to corporate, industrial, and institutional clients to satisfy their security objectives. In order to provide the best possible outcome, SBD partners with the client, design team, and integrators to create a cohesive design that goes beyond a pure security perspective. It is a fundamental SBD belief that the services provided can be appropriately tailored to the needs of each client. The ultimate goal of our services is to improve safety and reduce controllable losses.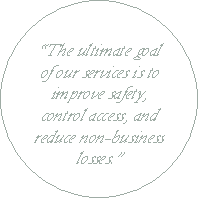 Edmonds H. Chandler, Jr., CPP and Lorna L. Chandler, CPP head this team of professionals who provide vulnerability analyses, accomplish feasibility studies, and design and specify state-of-the-art security systems. Included in the designs are: security alarms; access control; fire detection, suppression, and annunciation; water detection; closed circuit television; intercom; computer center facility alarm monitoring; and total design management of data centers emergency responses.

In addition to the obvious security systems, we examine passive security measures such as how pathing and lighting interact with the concept of security. The concepts espoused in CPTED (Crime Prevention Through Environmental Design) are used when performing these evaluations. Areas of knowledge include the uses of video analytics and biometric screening. SBD also provides complete support services including standards manuals, procedure manuals, specialized training, contractor interface, and technology interpretation.
SBD has achieved success and growth by combining expertise in the security, engineering, and business disciplines. SBD has staff members who hold Certified Protection Professional (CPP) designations and SBD's CAD department provides the first class quality our clients expect.
Security By Design does not install systems nor sell equipment.